BS/2 Becomes an Exclusive Partner of Magner International in Uzbekistan
Starting in April 2023, BS/2 has been supplying Magner equipment and spare parts to Uzbekistan while also providing technical support. This has enabled banks and retail companies in the country to receive quick service support and obtain top-notch cash handling systems. Counting, sorting, and packaging machines from Magner include over 30 models.
Magner International Corporation is a well-known and respected manufacturer of cash counting and sorting equipment
It was founded in 1983 in response to a growing need for banknote processing equipment. Throughout its four decades of operation, Magner has manufactured and installed over 5 million machines in more than 150 countries. Magner's position as an industry leader is due in part to its consistent release of innovative solutions, such as additional dust protection and internal memory for archiving information about each device's operation. Additionally, Magner offers high-quality products at an affordable price, making them a cost-effective choice for businesses.
Advantages of Magner equipment
Simplicity and Ease of Use
Magner equipment is designed with modern backlit displays and user-friendly indicators. It also has a customizable and intuitive interface that makes it easy to operate.
Assembly Quality and Durability
Magner equipment is made of durable metal parts, which undergo additional quality control.
Reliability


Magner

equipment

is

manufactured

in

South Korea

and

Japan,

which

are

known

for

their

high

craftsmanship

levels

. The

machines

are

tested

and

recommended

by

the

European Central Bank,

which

attests

to

their

dependability

.

 

Longevity
Magner equipment has a lifespan of 7–10 years, which makes it a reasonable investment for businesses that need long-term solutions.
Anti-Counterfeit Protection
Each Magner device has an individual identification code that confirms its authenticity, making it difficult for counterfeiters to replicate the equipment.

Magner equipment is popular in Uzbekistan
In 2007, the 35S currency counter with a metal mechanism and Magner 75 with multi-currency functionality were the first devices introduced in Uzbekistan. 
Today, there is a demand for machines with multiple pockets, as they enable the processing of large volumes of money without the need for manual intervention by the operator.
The Magner 2000 is the most advanced model available in its class. It stands out for its high level of counterfeit detection and banknote recognition by currency, denomination, year of issue, and serial number. It can also process a mix of cash without requiring the cashier to pre-sort it, recognize old and worn-out notes and reject them. Additionally, it can be customized to stop automatically when the stacker pocket is full, or a pre-set value is reached.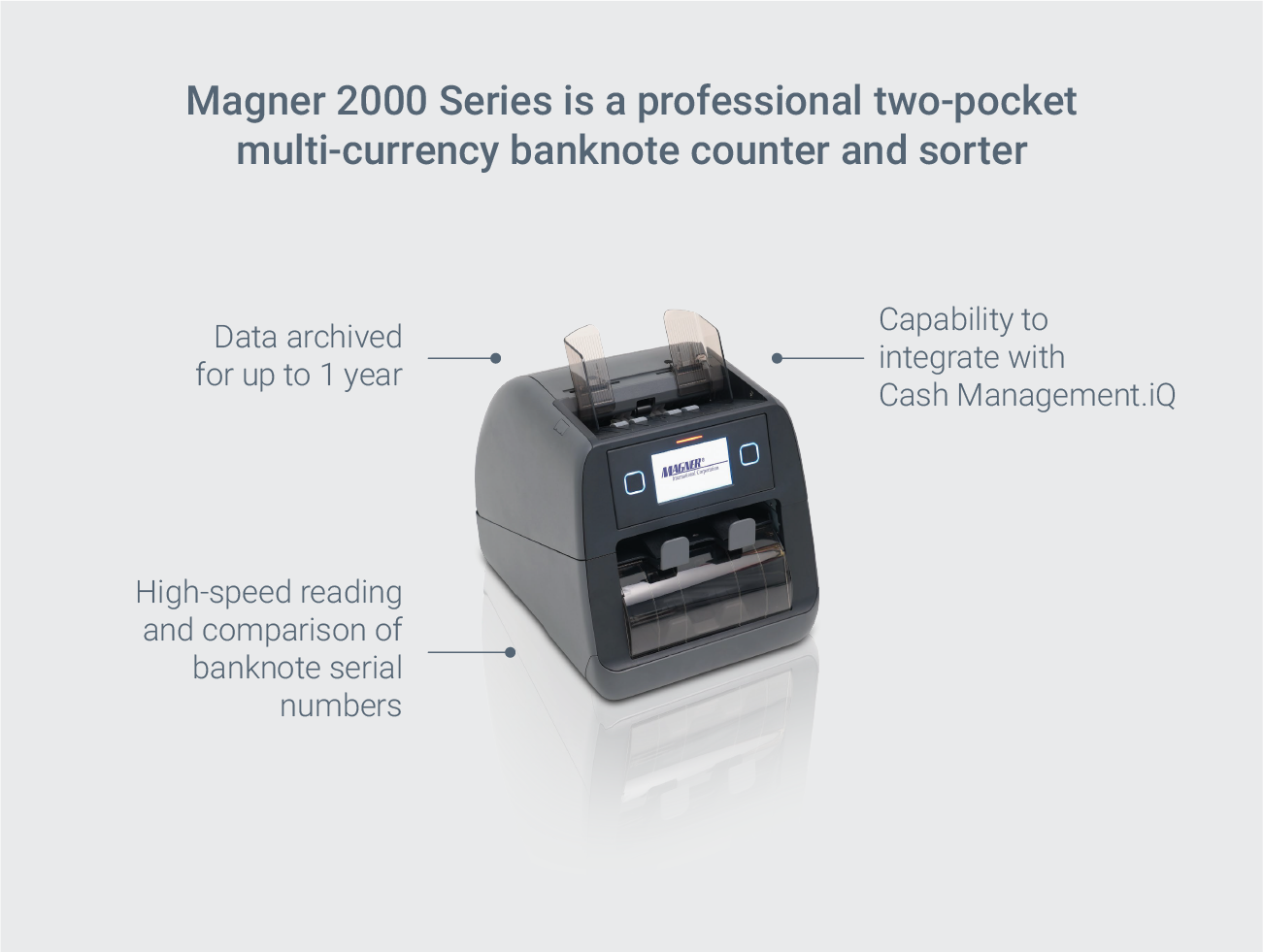 Businesses that handle substantial amounts of cash should consider investing in the Magner 250 and Magner 350 multi-pocket banknote counters and sorting solutions. The Magner 250 provides the advantage of mixed currency mode and supports multi-channel sorting of notes by various characteristics. Meanwhile, the Magner 350 offers even more features, such as the ability to connect to an external printer and generate and print reports.
Magner International + BS/2 = Quality Equipment and Timely Support

 
Banknote manufacturing technologies are evolving. For example, in the latest and largest denomination of the Uzbek currency, the 200 000 sum note, a special graphic element "Spark Live" has been added, which creates a moving image effect and changes its color, and a blue micro-optical machine-readable security thread with the text "UZB". Such unique and complex elements help prevent counterfeiting.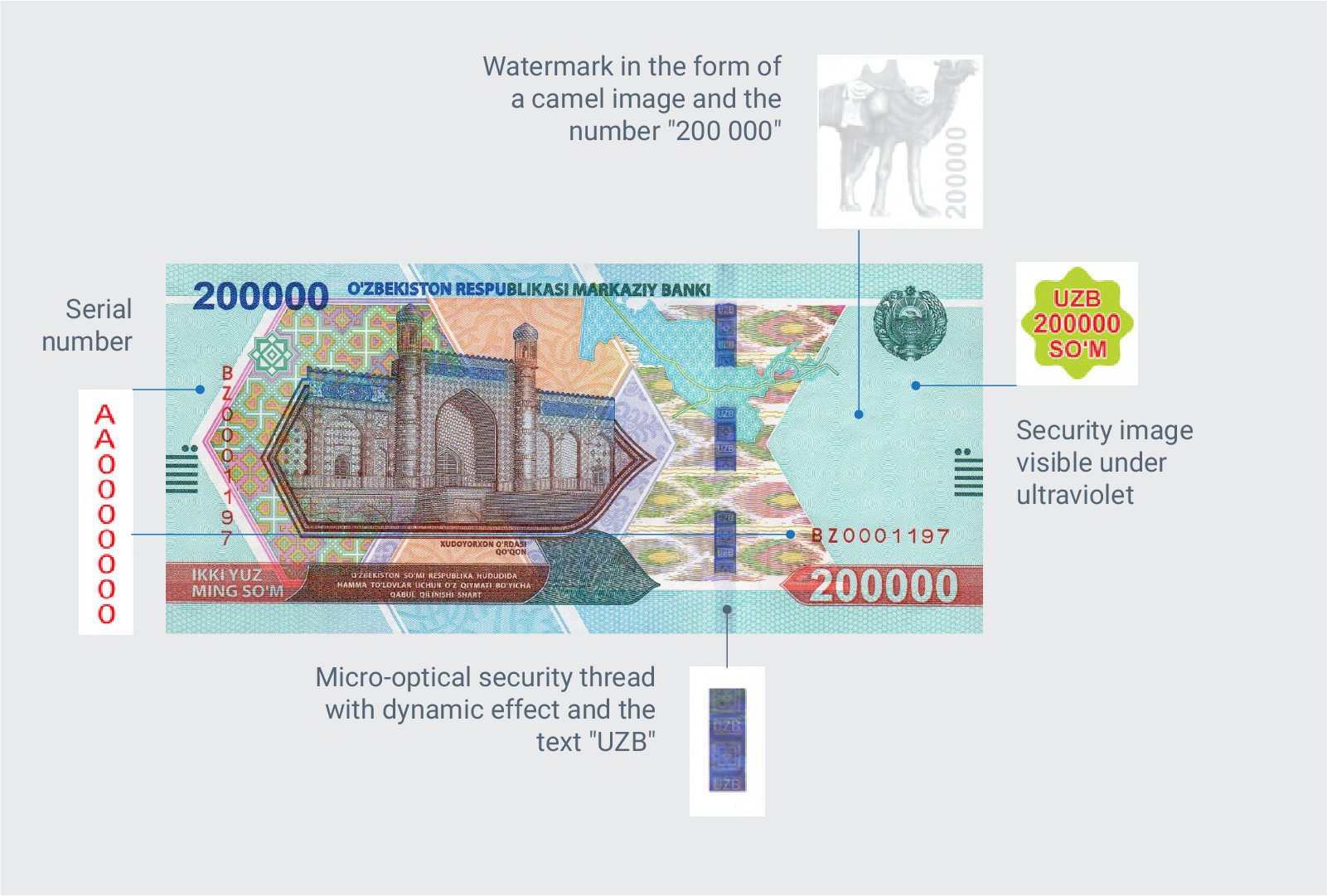 At the same time, for rejecting counterfeit banknotes more advanced equipment is required that can read these elements. Cash counting and sorting machines use various sensors, including magnetic, infrared, ultraviolet, and optical sensors, to detect these features. Regular preventative maintenance of the devices, including replacement of worn or damaged parts and updating software and hardware settings, is needed to ensure their proper functioning. 
BS/2 is the only company in Uzbekistan that supplies cash handling equipment and has service centers in all regions of the country


"With a proficient technical support team and extensive experience, BS/2 is fully prepared to tackle any challenge. Our partnership with Magner guarantees consistent equipment performance throughout its lifecycle,'' — emphasizes BS/2 Product Manager Gulnur Ismailova.
Trends in cash circulation in Uzbekistan in 2023

 
Increase in the volume of cash circulation
The International Monetary Fund (IMF) predicts 5.1% economic growth in Uzbekistan in 2023. An increase in private investment and trade turnover in the country can be expected, resulting in an increase in the volume of cash circulation.
As of 2021, banks recorded 251.7 trillion sums in cash inflows and 255.5 trillion sums in outflows, which increased to 343.8 trillion sums and 356.4 trillion sums, respectively, in 2022. These trends indicate a rise in the volume of cash in circulation in the economy.
Demand for cash among the population
The demand for cash among the population remains stable as salaries, pensions, and benefits are often paid in cash, and the number of currency exchange and cash withdrawal transactions from bank cards, which come with money transfers from neighbouring countries, is constantly increasing.
Issuance of additional banknotes and denominations
To meet the demand for cash, the Central Bank of Uzbekistan issues additional money and puts banknotes of larger denominations into circulation.
Involvement of commercial banks in cash handling

Commercial banks have long been involved in organizing cash circulation in Uzbekistan, and cash is sorted into categories of "fit," "old," and "unfit for payment" before being sent to the Central Bank of Uzbekistan.
However, the technical infrastructure of financial organizations in Uzbekistan does not currently support full automation of cash operations. Therefore, one of the priority tasks of the Central Bank of Uzbekistan is to improve the cash handling processes: counting, sorting, and packaging banknotes, and integrating cash sorting machines used in the Central Bank of Uzbekistan's local cash centers with the equipment of commercial banks.  

"Our expertise in cash circulation and deep knowledge of regional specifics (BS/2 has been operating in Uzbekistan since 2008) will enable us to meet the customers' needs and strengthen Magner's presence in the Uzbek market," — comments Zaur Yusifov, Managing Director of Cash Solutions at BS/2. 

Therefore, the partnership between BS/2, a company specializing in cash solutions, and Magner, a manufacturer of cash counting and sorting equipment, is a timely and relevant event for the financial market of Uzbekistan.