BS/2 showcased its new generation of solutions at the VII International Banking Forum in Azerbaijan.

In early November, the VII International Banking Forum (IBF-2023) took place in Baku, where BS/2 served as a Premium Sponsor for the event. The company introduced its updated software solutions in the fields of banking technologies, equipment for cash handling, and payment acceptance, and also delivered a presentation during the conference session.
In 2023, the BS/2 software products of the .iQ family received a series of updates.
Now, each product comes with a built-in analytics tool, helping to understand data and make informed decisions. The company has presented these solutions at PLUS-Forums in Uzbekistan and Kazakhstan, and now Azerbaijan has also had the chance to get a firsthand look at the latest developments.
DS Center.iQ is a recent addition from BS/2, embodying a decision support system that integrates and unifies data from various sources. It allows for evaluating the financial performance of banking devices (both the entire fleet and individual units), taking into account cash collection costs, rent, rates, transaction profitability, and more. Identifying objects that do not generate sufficient revenue can prompt actions on their replacement, repair, or redistribution.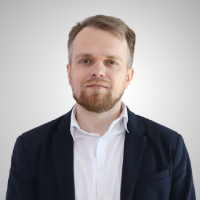 Siarhei Kraiko, Head of Product Development Division at BS/2:
We showcased new capabilities that enable financial institution executives to promptly assess the operational efficiency of equipment, considering both the real availability of banking devices and the missed opportunities arising from malfunctions. Additionally, we presented an advanced method of user interaction with ATMs, utilizing smartphones. This approach streamlines transactions on touchscreen-free banking machines and also makes them accessible for individuals with limited capabilities.
The spotlight is on our security system for self-service devices, ATMeye.iQ New Generation. It allows quick investigation of issues, like when an ATM fails to dispense cash. Useful filters based on the object, date, and time make it easy to track whether the client received the money and took it.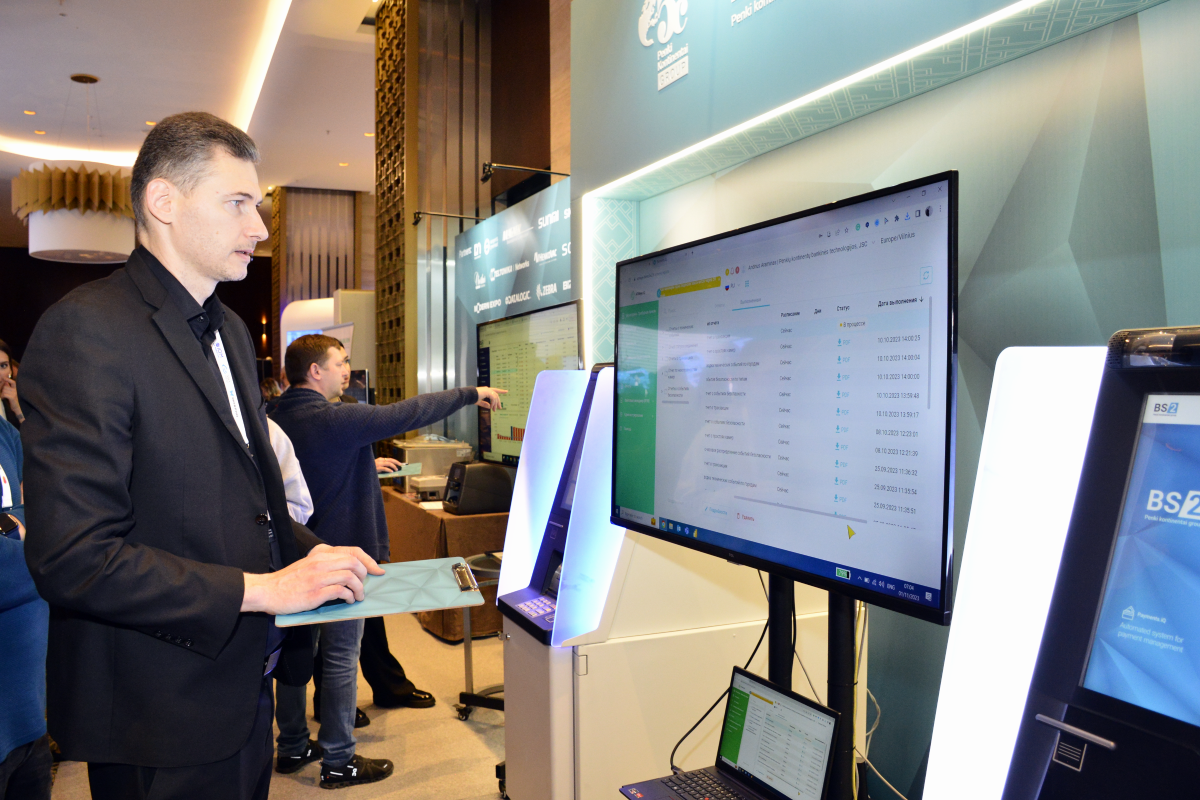 The Cash Management.iQ platform, specializing in the optimization of physical currency flow, now incorporates the ability to monitor information regarding withheld cards by ATMs and identify devices that have reached the limit for such cards. This functionality assists in making decisions regarding unscheduled cash collections. A new module, "Route Sheets," was showcased, enabling the optimization of cash collection schedules for objects by considering the shortest distance to them.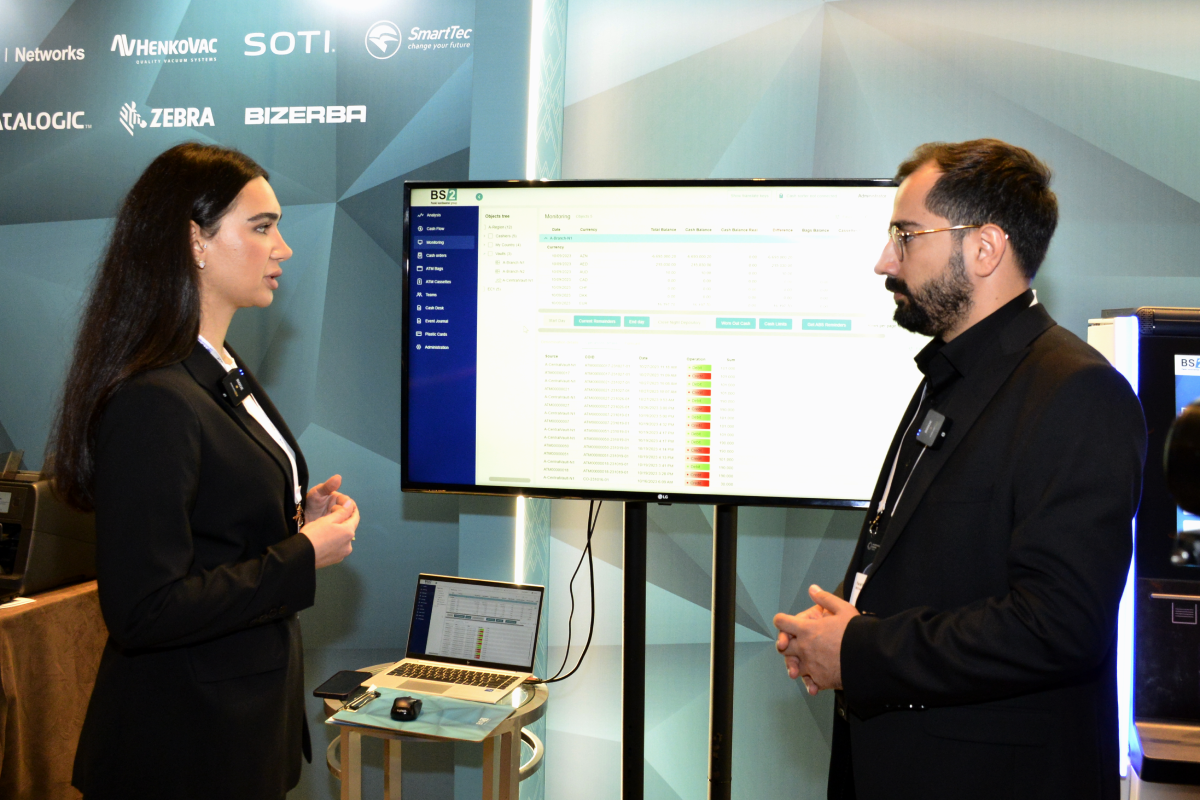 A network of ATMs can be not only an expenditure item in the financial organization's budget but, on the contrary, a source of revenue. To achieve this, it's essential to install recyclers and enhance their features to accept different types of payments. The Payments.iQ solution delivers this functionality. Partners have acknowledged an additional significant result of implementing the solution: a decrease in the workload for cashiers and bank branches.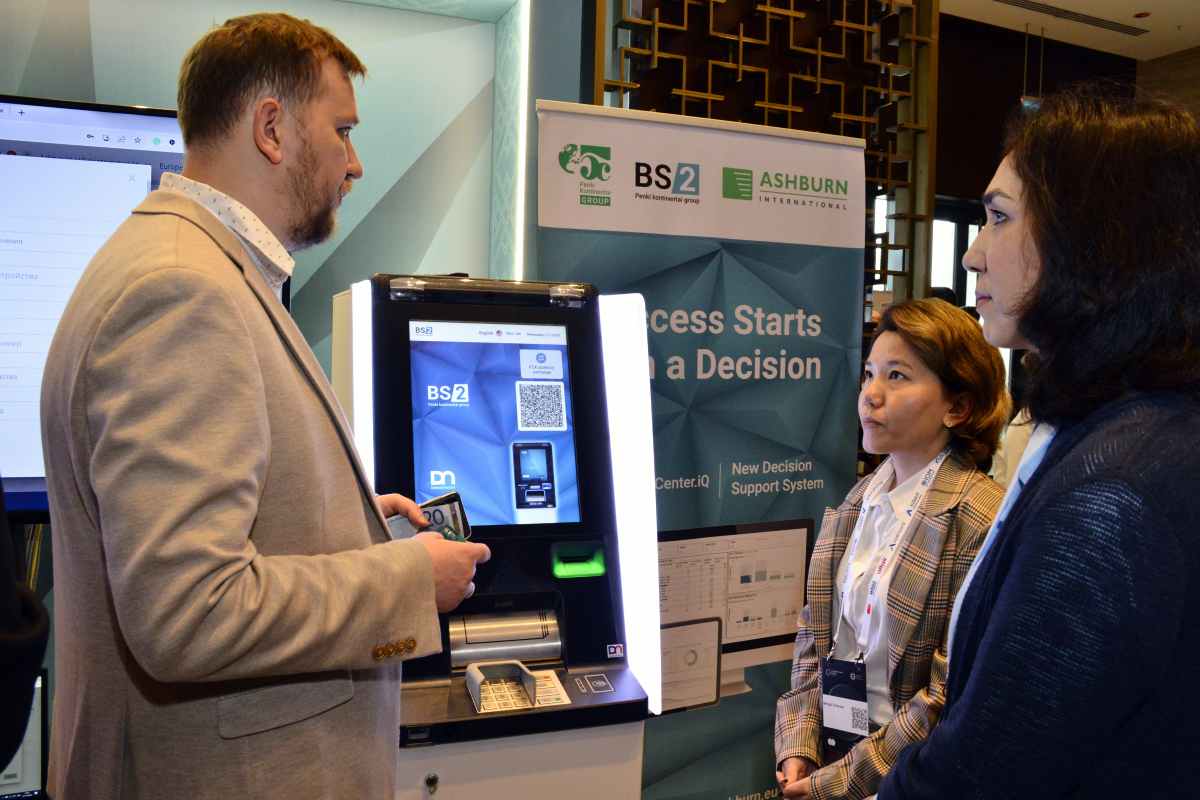 At the BS/2 exhibition stand, visitors could also witness modern equipment for conducting banking operations.
BS/2 represents developments from the world's largest manufacturer, Diebold Nixdorf, in Eastern Europe, Central Asia, and the Caucasus region. At the forum in Baku, the company showcased one of the most advanced self-service devices from this brand: the DN Series 200H ATMs. These ATMs boast compact dimensions: width 470 mm, height 1334 mm, and depth 823 mm. As a result, the terminals can be deployed in diverse locations, including financial institutions or retail venues, connecting physical spaces to digital ecosystems ("phigital"). Banks reduce queue lengths at the counter, enhance service speed, and provide clients with comfortable and secure access to transactions.
It's worth noting the presence of a recirculation module in this ATM. This hardware component sorts and redistributes banknotes among cassettes for reuse. With this module, the self-service device can operate not only for withdrawal but also for accepting money. This functionality helps extend the operational mode of ATMs and reduce expenses for cash replenishment.
On this device, the functionality of the Payments.iQ software solution was demonstrated: currency exchange at ATMs — FCX, cash withdrawal and deposit via QR code — QR-Pay. Additionally, the demonstration featured the Face Recognition technology for user authentication.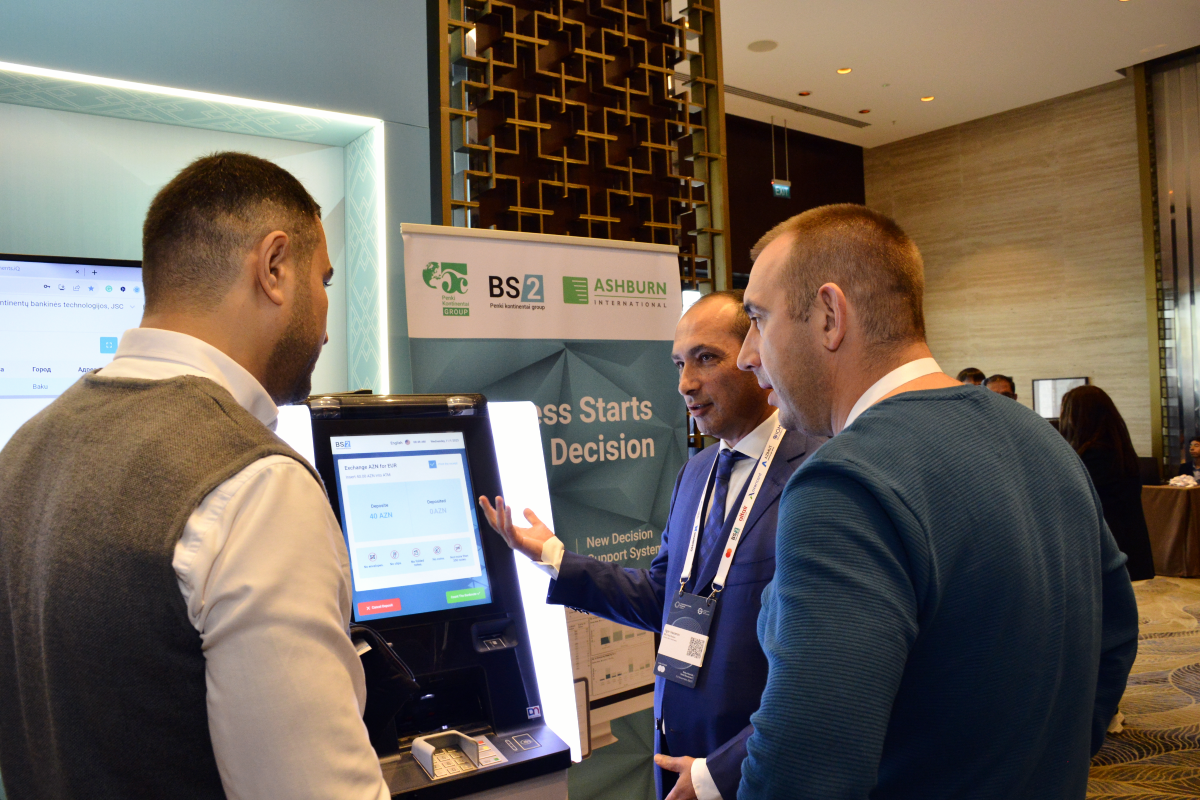 In Azerbaijan, there are 25 banks, and as of September 30, 2023, these banks collectively operate 3,119 ATMs, marking a 1.7% increase compared to the year–end 2022 figure. Diebold Nixdorf and Wincor Nixdorf brands constitute 82% of all ATMs in the country. 

T

he

presentation by the BS/2 speaker opened the panel discussion at the conference dedicated to

a new approach

to self

–

service

.



Head of Sales at BS/2, Kornelijus Šišla, delved into the topic "Smart ATM for Smart Banking", explaining the concept of "smart ATMs" and showcasing the new BS/2 development — DS Center.iQ. He elaborated on how it contributes to calculating ROI (Return on Investment). Commercial bank leaders discovered ways to optimize their offerings for enhanced client satisfaction, while representatives of governmental organizations learned about modernizing processes to improve the accessibility of their services.
Kornelijus Šišla, Head of Sales at BS/2:
The digitization of the banking industry has turned ATMs into powerful tools capable of providing diverse services. Centered around authentication technologies and a contemporary user experience, my presentation delves into methods for optimizing these devices. The goal is to increase efficiency and user-friendliness, ultimately enhancing client interactions with banking systems via self-service channels.
The audience's interest was also sparked by the payment solutions of ASHBURN International, which, together with BS/2, is part of the Penki Kontinentai group of companies.
ASHBURN International specializes in implementing systems for card payments and offers services for the rental, installation, and technical maintenance of POS terminals. The company's product portfolio includes the software solution TransLink.iQ for managing point-of-sale networks and routing transactions. It can be enhanced with features like QR code technology that increase the potential of payment gadgets. Another in-demand offering from ASHBURN International is My Tips, which allows leaving digital tips using a terminal.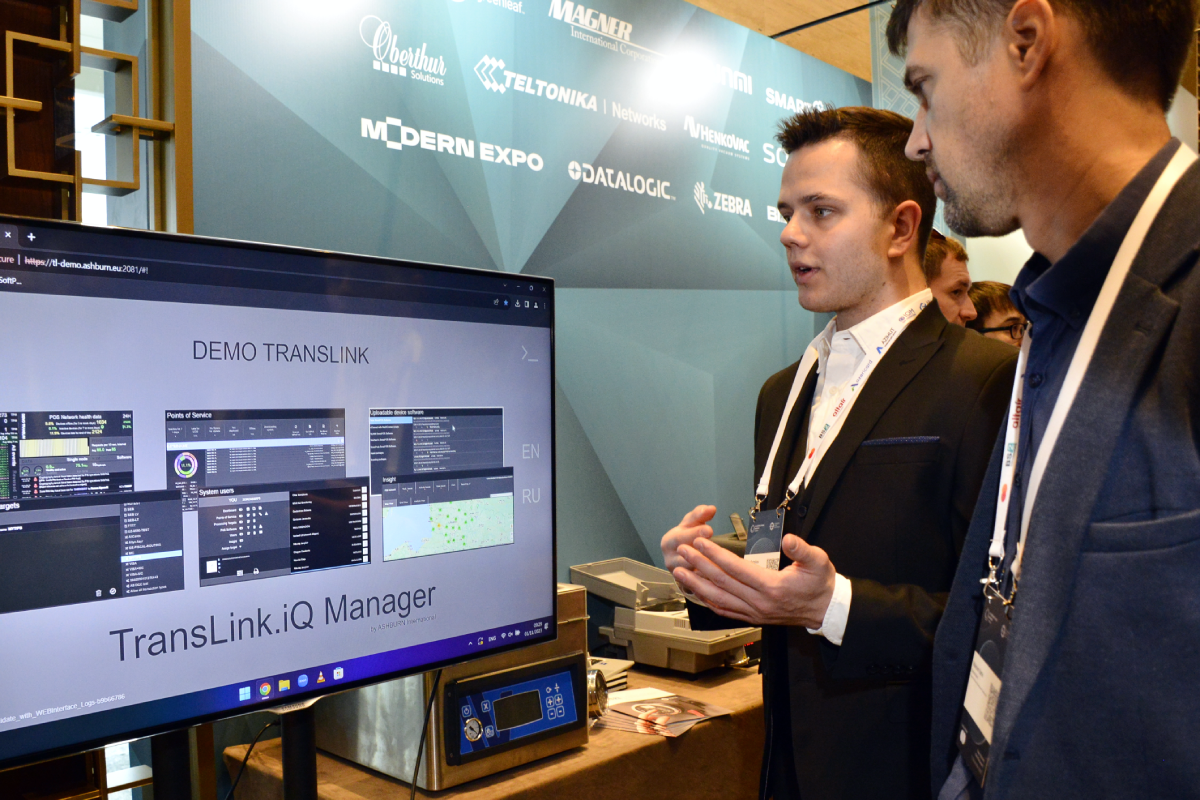 Speaking of the payment terminals themselves, it's worth noting the Android-based equipment. The new models that garnered the most attention from booth visitors were:
— SUNMI P2 SMARTPAD models (with a PIN pad), providing payment acceptance through various methods, including contact and contactless cards, as well as support for QR codes and Apple Pay/Google Pay,
— SUNMI P3 MIX. It's an all-in-one device equipped with a built-in printer for receipt printing or displaying other information and a fiscal component that registers all transactions to comply with tax requirements.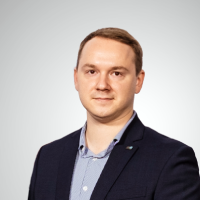 Sigitas Sniukas, Head of Sales at ASHBURN International:
Banks in Azerbaijan are investing in expanding the functionality of their terminal park to attract merchants. We aim to tailor our solutions to the needs of each market, offering device options from various vendors. At our exhibition booth, we highlighted projects with a focus on supporting the AniPay instant payment system, soon to be mandatory for all Azerbaijani banks per Central Bank regulations.
As of August 1, 2023, in Azerbaijan, the circulating payment cards surpassed 15 million, reflecting a 20% surge compared to the corresponding period in the previous year. These days, digital watches, smartphones, and other smart gadgets are used to facilitate every fourth transaction at point-of-sale terminals. In comparison with April-July of the previous year, the number of payments through POS terminals has grown by 81% in 2023.
BS/2 in Azerbaijan is represented by a subsidiary with service centers in Baku and Ganja.
For the implemented projects in the country, BS/2 received the prestigious Innovation SPIRIT Banking 2018 award at the Diebold Nixdorf Partners Summit. The award was granted for outfitting a large BRAVO retail network with modern equipment and software solutions, as well as for efforts in creating an efficient self-service environment for major Azerbaijani banks, PASHA Bank, and Kapital Bank.
Another BS/2 partner in Azerbaijan, Azer Turk Bank, actively participated in the Forum, going beyond a simple booth setup. It operated as a mini branch, issuing cards and facilitating transactions at the ATM. This showcased the outcome of our collaborative project, implementing the multifunctional software platform VCP Pro on DN Series ATMs. The devices now support contactless operations and boast a user-friendly interface, providing exhibition visitors with a firsthand look at the successful results of our joint efforts.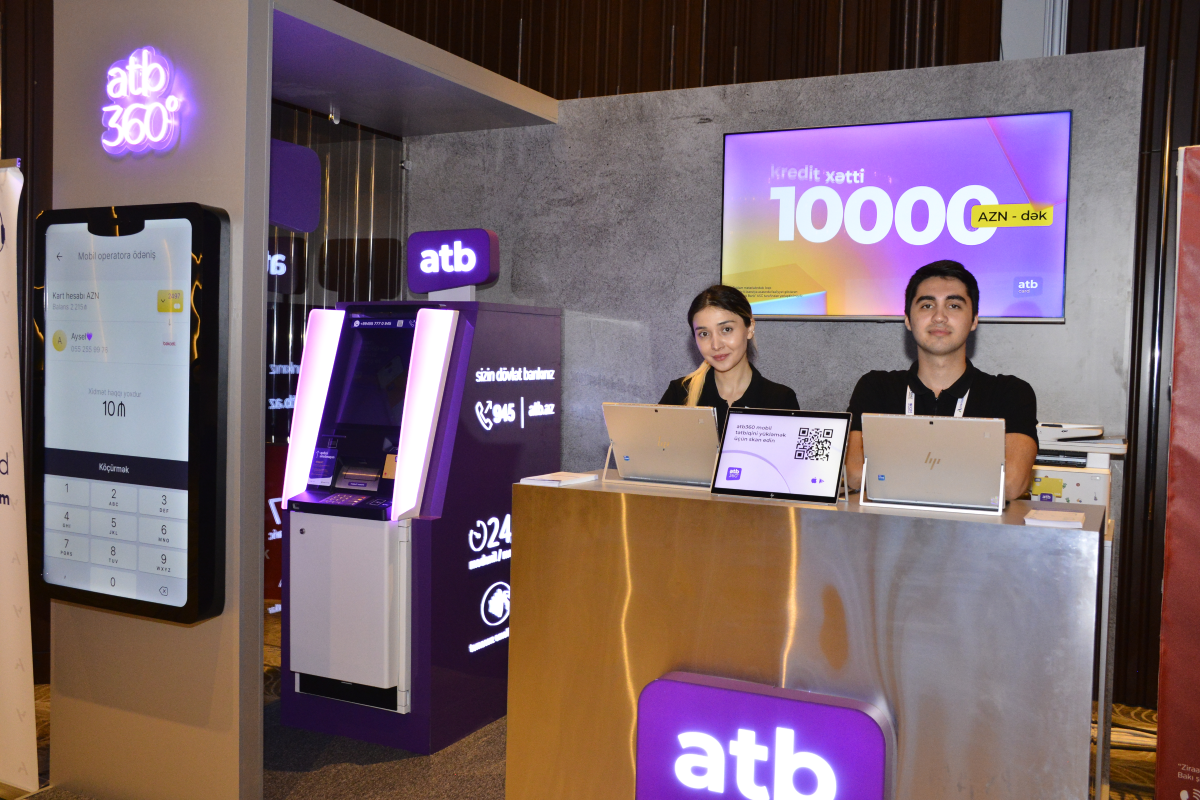 This year, with the assistance of BS/2, the first post terminal was launched in Azerbaijan. The device was installed in the Port Baku Mall, a shopping center housing brand stores, cafes, restaurants, and a large supermarket called "Port Bazar". This became possible through collaboration with the Ukrainian company Modern Expo, which manufactures and supplies not only post terminals but also retail and warehouse equipment, refrigeration installations, and self-service checkouts.
In October, BS/2 not only participated but also organized another noteworthy event in Baku — the "Retail Business Brunch". This meeting provided a unique opportunity to engage with key players in the industry, introduce the latest equipment, and have discussions about current trends.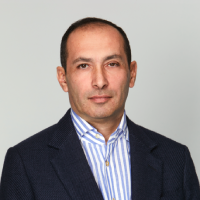 Ilgar Gasanov, the director of BS/2's subsidiary in Azerbaijan:
There is always demand for our solutions and modern self-service devices. ATMs are evolving, becoming more than just machines that dispense cash; they also perform additional functions. They support alternative payment and cash withdrawal formats, such as QR codes. Currently, Azerbaijani banks are in a transitional period, updating and expanding their ATM networks. There is interest in our new development — DS Center.iQ. This product is not boxed; it's flexible and can be utilized in various ways.
The VII International Banking Forum (IBF-2023) took place under the topic "Reliable, Secure, and Sustainable Banking".
It is the most significant event in the region's financial area and the only one attended by the majority of bank executives in Azerbaijan. Over two days, more than 1500 industry leaders participated, including over 200 delegates from Turkey, the USA, the Middle East, the CIS, and other countries. The BS/2 booth drew the attention of professionals from financial institutions, card business experts, individuals with expertise in economics and information technologies, project and marketing managers, as well as those at the forefront of banking product development, digitization, and innovation.