Smart ATM, electronic tips, open banking strategies, and other important payment trends for 2023
Baltic Payment Forum: what surprised and inspired
On April 25th, Vilnius hosted Baltic Payment Forum. The location was not chosen by accident. Lithuania's fintech sector experienced impressive growth in 2022 with an 80% surge in aggregate banking income and a 19% increase in fintech employment. BS/2 joins the list of Lithuanian IT corporations known for their solutions to banks around the world. It is very prestigious for the company to be a platinum sponsor of the event and speak to an honorary audience!
Baltic Payment Forum united financial leaders from European Union, Ukraine, and Eurasia countries in the payments sector to exchange experience in the use of payment solutions and open banking. This event was held to support the Ukrainian financial market and covered critical issues including collaboration between European and Ukrainian companies, European integration subtleties, the future of digital financial services, etc.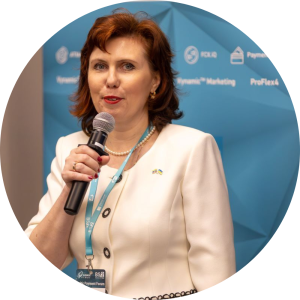 "I am grateful to BS/2 for many years of cooperation and support of the Baltic Payment Forum as a Platinum Sponsor", said Karolina Alexandrova, CEO, Member of the Board of Business-Format. "BS/2 is the market leader and it is great that such an international scale company has taken an active role in supporting Ukraine through its participation in the event."
According to a Business-Format company that organized the event, the Forum was primarily intended to benefit the financial community. By gathering professionals from various countries and creating opportunities for exchanging professional experiences, best practices, and exploring new partnerships and ideas, the forum aims to promote the development of the financial industry. With over 260 participants from 20 countries, the forum became an exciting platform for discussing the latest financial market trends, exploring post-war growth opportunities, and sharing best practices in payments.
Event attendees visited the BS/2 company's stand, where they could see the ATM Diebold Nixdorf DN Series 200H in action. Additionally, participants tested My Tips application from ASHBURN International. This solution allows cashless tipping with a payment terminal without additional equipment.
The forum was filled with insights and engaging discussions. Kornelijus Šišla, Head of Sales Department of BS/2 ignited the audience with his presentation "Smart ATM for Smart Banking". Our speaker showed the audience that modern ATMs can do more than just dispense cash. In fact, ATMs can also be used as self-service devices. BS/2 offers innovative solutions like Payments.iQ and FCX.iQ that make ATMs SMART. With advanced software, users can perform a range of transactions, including payments and currency conversions. Smart ATMs do not require cards to interact. Instead, clients can use QR-code or NFC technology.
Tomas Augucevičius, Deputy General Director of BS/2 greeted the forum participants with a welcoming speech.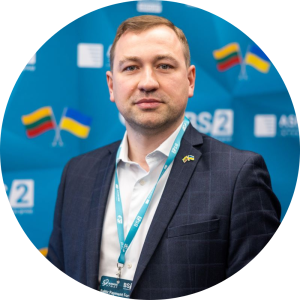 "Good times make weak men, weak men create hard times. Hard times create great nations and opportunities. Use this conference to take as much as possible into the new times, Tomas paraphrased the famous novelist. "This event provides us with an opportunity to share our experiences and knowledge that BS/2 has gained over the past 30 years. It is noteworthy that great market players from Ukraine have come to Vilnius, and we are all aware of the current situation in this country. Thus, we strive to help our colleagues through technology, partnership, and other beneficial ways."
In addition, Žoržas Šarafanovičius, Executive Director of ASHBURN International presented the TransLink.iQ solution at the Forum. The software facilitates the administration and control of EFTPOS terminal networks and transaction delivery, and the monitoring of transactions and technical features of payment terminals in real time.
The agenda also included keynotes from esteemed experts from Ukraine, Lithuania, Latvia, Poland, Hungary, the UK, and other countries. Looking forward to the next payment forum in a year!