ATMeye.iQNG, VCP Pro and QR-Pay – Training Session for BS/2 Experts from 8 Countries Was Organized in Vilnius
The international training week for BS/2 employees has come to a close. Specialists from Azerbaijan, Georgia, Kazakhstan, Kyrgyzstan, Latvia, Lithuania, Uzbekistan, and Estonia visited a series of educational events in Vilnius, home to the company group's headquarters. During the sessions, participants discussed BS/2 and partner Diebold Nixdorf software and hardware, tried out retail and cash register equipment, visited the Teltonika tech center, received training in leadership, sales, and project management, and rounded up the year's achievements.
The Upgrading of Self-Service Device Networks
There's a growing demand in the global market for modernizing self-service device fleets. Financial institutions are looking to replace older ATMs with more technologically advanced ones to remain competitive and fulfill clients' needs. BS/2 has seen this trend firsthand: in 2022, banks expressed interest in Diebold Nixdorf's DN Series devices and the software that powers them.
The upgrade of ATMs in the Baltic States' banking sector has given clients access to cutting-edge banking services. To ensure seamless operation, technical support will be key. That's where we come in. We're also looking to push counting and sorting equipment and software solutions that can help financial institutions boost the efficiency and accuracy of their cash handling,


– said BS/2 Latvia Director, Jaroslavs Pupins
Expanding the physical points of presence of both Victoriabank in Moldova and Ipak Yuli in Uzbekistan has become another noteworthy project of BS/2.
Boosting ATM Security with Video Surveillance and Analytics
Financial organizations are boosting the security of self-service machines by incorporating advanced features. In 2022, the most in-demand software solution in BS/2's portfolio was ATMeye.iQNG (New Generation), which protected the ATM network from threats and fraud while also streamlining the dispute resolution process with clients.
The ATMeye.iQ platform has proven itself in Estonia, and our top priority is to ensure a smooth migration to the updated version of the product. We strive to provide our customers with exceptional service, and this sets BS/2 apart from competitors,

– commented Executive Director of BS/2 Estonia, Rene Talts.
A study by the ATM Industry Association (ATMIA) revealed that self-service machines globally face an average of over 1,000 attacks each month. The findings indicate that skimming and card capture are the most frequent types of fraud. The introduction of cardless cash withdrawals raises hacking incidents. By utilizing video surveillance and analytics, banks can lower the number of attacks and enhance the security of their ATMs.
Subsidiary representatives got an inside look at the Next-Generation ATMeye.iQNG software platform's new features, including the streamlined dispute resolution process, during the presentation.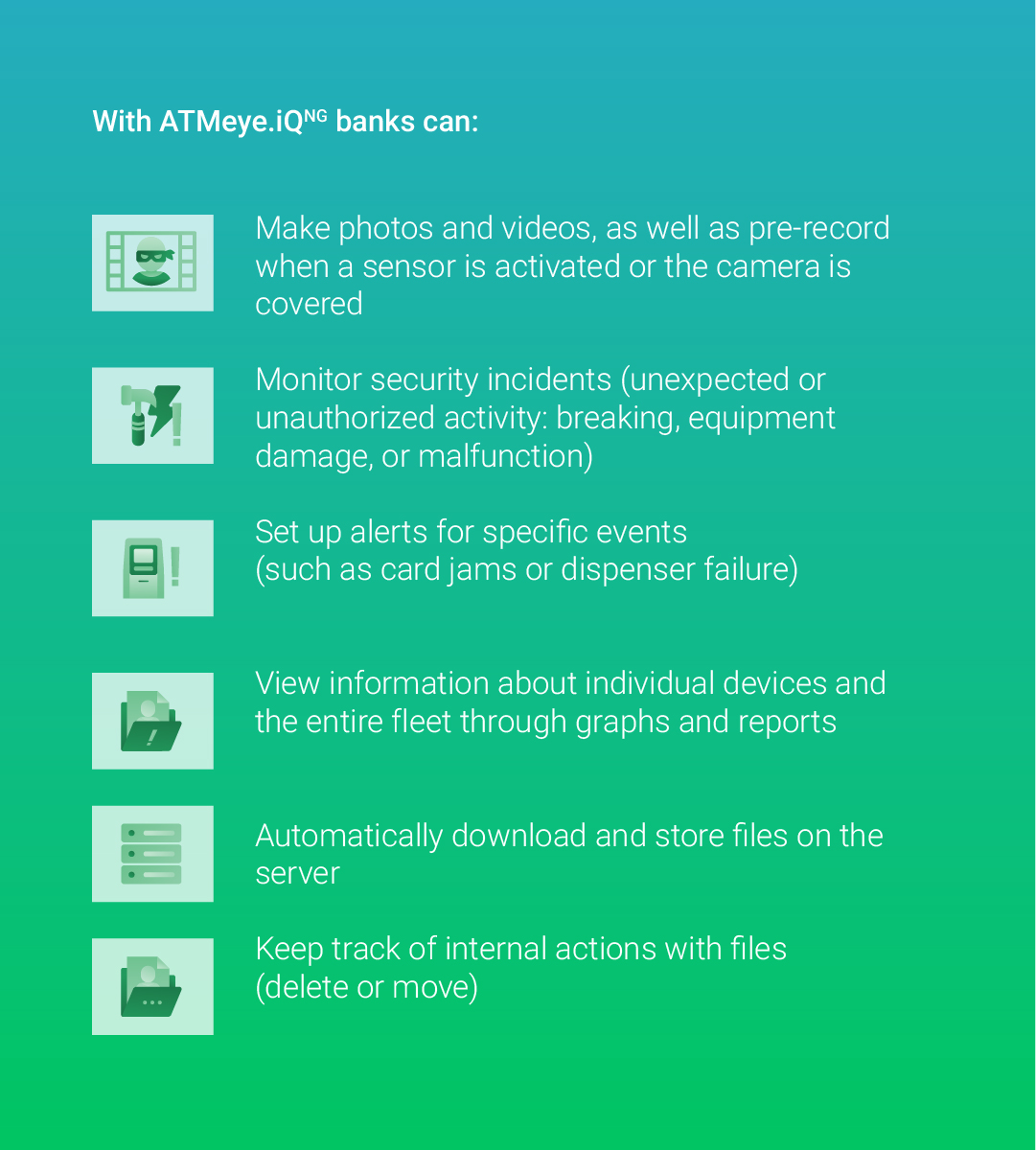 24/7 Contactless Client Service
The shift towards digitalization has motivated banks to invest in technologies that enable contactless payments and transactions without interacting with a cashier. These include paying bills, loans, taxes, and fines, purchasing e-tickets, adding funds to an account, and exchanging currencies. BS/2 has created a comprehensive Payments.iQ solution that transforms a terminal into a 24/7 client service point.
By implementing this software product, banks are able to offer tens of payment options for hundreds of services.
The rise of QR-Pay demand started during the pandemic, and we refer to this trend as "phygital" which blends the physical and digital realms. The QR-code serves as a link between the physical world and the digital one, enabling cash transactions through mobile banking,

– added Andrey Yushev, Head of the Business Development Department at BS/2.
Advanced Technology for Cash Management
Cash Management.iQ saw a rise in usage in 2022. This platform aids banks in managing their cash by:
monitoring the balance across branches, ATMs, and stores,
forecasting cash demand,
streamlining cash flow
cash collection
An additional advantage is simple integration with existing systems and business processes. The program also provides real-time data and analyses that are relevant to informed decision-making. By implementing Cash Management.iQ, financial institutions have seen a reduction in costs and time spent on cash processing.
Some recent notable projects in Cash Management.iQ implementation can be found in Uzbekistan's banking sector, and its history dates back to 2015 in Georgia as well.
In Georgia, banks face intense competition and are constantly looking for ways to stand out from each other. They come to us with innovative ideas, and we work to bring them to life. This is why many of BS/2's products were first tested here before being rolled out globally. Going forward, we plan to focus on retail, just like our colleagues in Baku,


– remarked Nikoloz Kukujanov, CTO at BS/2 Georgia.
The Acquiring Sector Has High Growth Potential
Ilgar Hasanov, the Director of BS/2 Azerbaijan, highlighted the bright future for the acquiring industry. He pointed out that the payment market is growing rapidly as consumers are choosing to use cards over cash, driving the demand for acquiring services.
As a part of the Penki kontinentai group of companies, ASHBURN International offers the necessary infrastructure and tools, including the software Translink.iQ for managing the acquiring network, monitoring transactions, and transmitting financial data.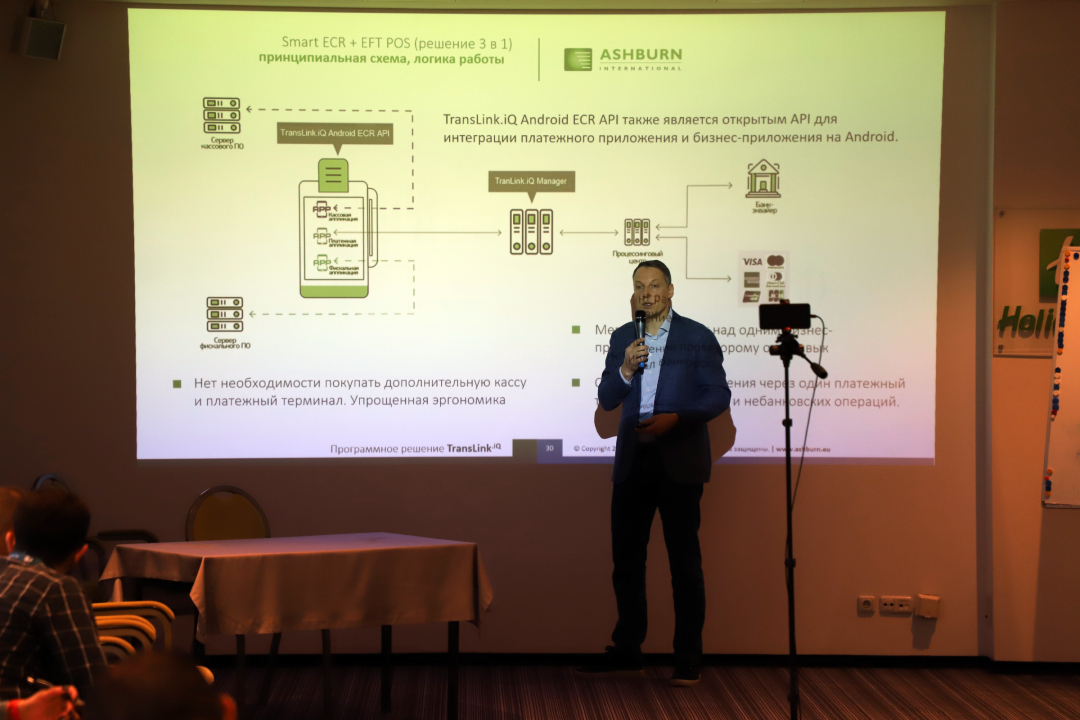 In the photo: Žoržas Šarafanovičius, CEO of ASHBURN International
The participants summarized their experience by highlighting the benefits of exchanging expertise about BS/2 solutions in different regions. They emphasized the importance of being customer-focused and understanding their needs, as well as maintaining close communication with product developers. This approach, they noted, leads to a mutually beneficial outcome.