How Victoriabank Upgraded its Self-Service Network in Moldova

Victoriabank, Moldova's third-largest bank in terms of assets, modernized its self-service device network. In 2022, the financial institution expanded its ATM network and replaced some outdated machines with new Diebold Nixdorf devices, with the help of BS/2 solutions and with the involvement of DAAC System Integrator. In addition to enhancing the technical infrastructure, the bank also updated the ATM software.
The following solutions were implemented:
– ATMeye.iQ video surveillance system for device security and dispute resolution
– Vynamic™ Security solution to protect ATMs from threats
– Vynamic™ View software solution for managing the self-service device network
– VCP-Pro (ProFlex4) software to expand the range of services offered at ATMs
⠀⠀⠀⠀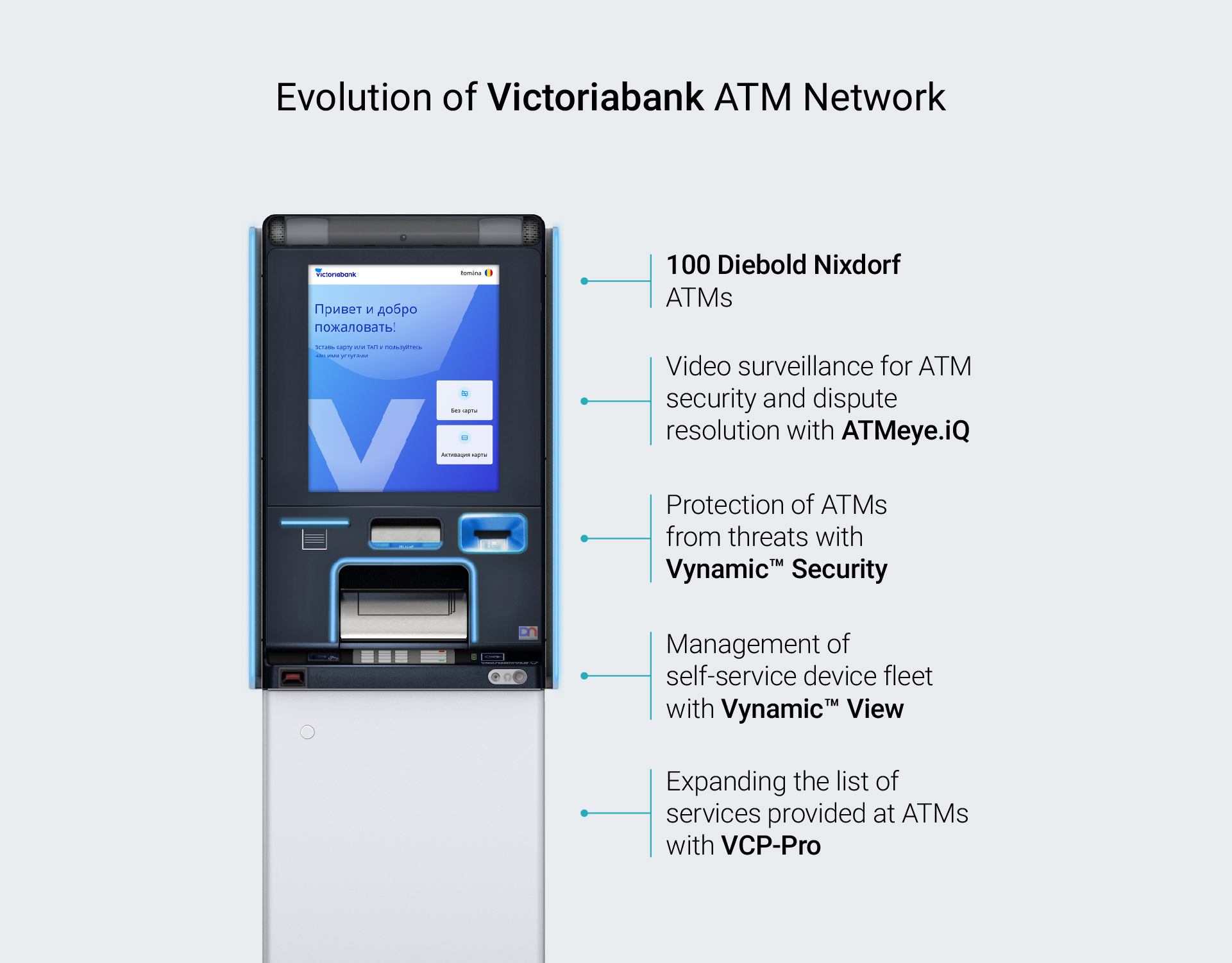 ⠀⠀⠀⠀
The implementation of the project consisted of several stages
While the equipment was being prepared for delivery and transportation, BS/2 and Victoriabank specialists were developing user interaction scenarios with the devices. The main goal was to reduce the number of steps required to perform operations and make the process intuitively understandable. At the same time, the design team was visually styling these scenarios in the bank's corporate style.
Since the VCP-Pro platform allows for configuring marketing campaigns and adding animations and images to the interface (e.g., festive elements), it was essential to train bank employees on how to do it themselves. Technical specialists conducted test drives of the software solutions and gradually integrated them into the existing system environment.
⠀⠀⠀⠀
What functionality is available to Victoriabank ATM users today?
The modernized ATMs offer more than just cash withdrawal capabilities; they also enable account replenishment in four currencies, facilitate fund transfers through P2P platforms, and support transactions utilizing QR systems. The interface operates in three languages.
Users now have the choice of payment methods: using a card, mobile phone, or smartwatch. This capability is made possible by the built-in NFC module (Near Field Communication). This technology is not yet widely utilized in ATM networks, but thanks to innovators like Victoriabank, it is becoming increasingly accessible.
⠀⠀⠀⠀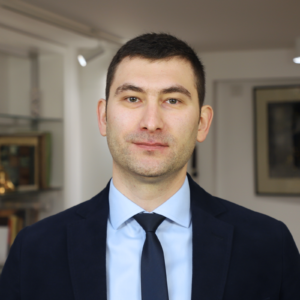 Nikolay Zaleshchuk, Regional Manager of BS/2:
Contemporary banks aiming to fortify their positions both in the Moldovan market and beyond its borders exhibit a proactive interest in cutting-edge technologies that can be seamlessly integrated into business processes. This facilitates financial institutions in operating more efficiently, ensuring profitability, and achieving ambitious development plans.
Now, a Victoriabank ATM user can withdraw cash in just 8 seconds, and the overall transaction speed has increased by 4 times.
Delegating financial operations to a round-the-clock and easily accessible self-service channel, as well as reducing the number of steps required to carry out transactions, not only saves clients' time but also reduces the workload on the bank's physical branches.
⠀⠀⠀⠀

Valeriu Stratan, Director of Victoriabank's Processing Center:
Our bank strives to provide modern solutions for automating routine operations. We constantly invest in digital products and services that cater to the needs of our clients. Users positively appreciate such an approach and happily engage in contactless transactions.
New ATM feature: banknotes reuse
The new Victoriabank ATMs have a recycling feature. They not only dispense cash but also accept cash deposits. This means that banknotes are reused in transactions. For instance, when one user makes a deposit and inserts cash into the machine, the ATM sorts and stores the banknotes in separate cassettes based on their currencies and denominations. Later, when another user makes a withdrawal, these same banknotes are dispensed to them. This reduces the need for frequent cassette replenishment and minimizes the number of cash collection operations.
⠀⠀⠀⠀
Alexandru Savinov, Director of Sales Department at DAAC System Integrator:
The introduction of a new series of ATMs and software solutions in the Moldovan market unfolds ample opportunities for the bank. We extend our sincere gratitude to the Victoriabank team for their trust. We are entirely confident that through collaborative efforts, we are building an intuitive and user-friendly self-service platform, enabling the delivery of high-quality services to our clients.
Improved security of Victoriabank ATMs: how it works
ATMeye.iQ is a solution designed to enhance the security of ATMs and other self-service devices. It enables technical monitoring and serves as a convenient tool for managing user inquiries.
Vynamic™ Security is a comprehensive security system that protects self-service devices from cyberattacks and threats related to the theft of client data. Victoriabank can monitor transactions in real-time and automatically block any suspicious operations.
The combined utilization of these two software products significantly enhances cash retention within devices and reduces the likelihood of fraudulent activities.⠀⠀
The plans include further collaboration
The modernization process of Victoriabank's self-service channel is not reaching its conclusion at this point. In the near future, the bank intends to further implement VCP-Pro (ProFlex4) and advance its marketing initiatives through the Vynamic™ Marketing platform.
⠀⠀⠀⠀

Victoriabank, established in 1989, stands as the pioneering commercial bank in Moldova. Throughout its history, it has been at the forefront of introducing modern banking services to its clientele. This institution is credited with ushering in the country's first banking cards, self-service devices, POS terminals, as well as mobile banking and contactless payment technologies.
The bank serves 270,000 clients across over 30 localities within the country. Since 2018, it has been a vital component of the largest financial group in Romania, the Banca Transilvania Financial Group. In August 2022, Victoriabank unveiled its strategic development plan for the next three years, with a pronounced focus on enhancing the client experience.
Victoriabank has been in collaboration with BS/2 since 2007.
⠀⠀⠀⠀

DAAC System Integrator serves as the distributor of Diebold Nixdorf and BS/2 hardware and software solutions in Moldova. The company delivers technical support for over 80% of the country's installed ATMs. Renowned for its implementation of technologically complex and extensive solutions across various sectors of the economy, DAAC System Integrator is an integral part of the DAAC digital group of IT companies, involved in projects spanning Moldova, Uzbekistan, and Romania.
⠀⠀⠀⠀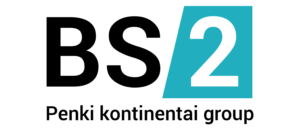 BS/2, which is part of the Penki Kontinentai Group, provides IT services, develops software, supplies banking equipment, and offers system integration and technical support services. It has been on the banking technology market for over 25 years and has implemented projects in 80 countries worldwide. BS/2 is an exclusive partner of Diebold Nixdorf in Eastern and Central Europe, Central Asia, and the Caucasus region. It annually confirms compliance with the international standard ISO 20000. Since 2012, it has been audited and certified for compliance with the ISO 27001 standard, which defines requirements for information security management systems.
The full case description is available at the link. Download it and find out what goals Victoriabank was able to achieve through the implementation of this project.